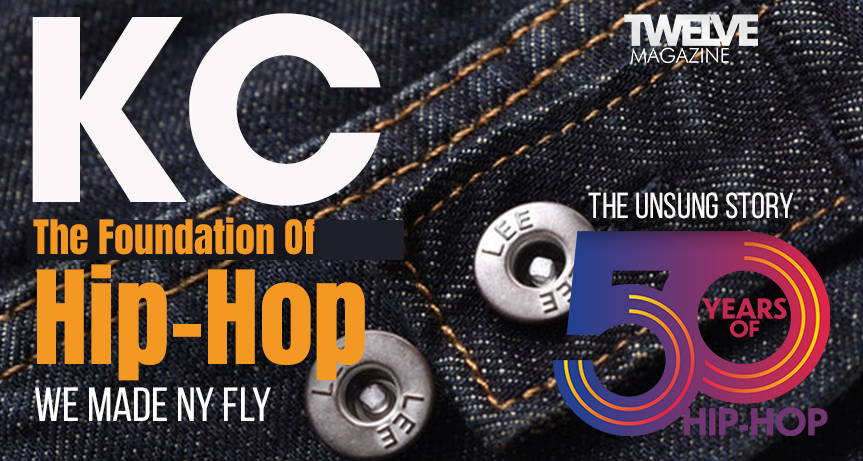 50 Years of Hip-Hop...Give KC It's Due
Kansas City–We made NYC Fresh, Dope & Fly.
The year 2023 marks the golden jubilee of Hip-Hop, a cultural phenomenon that has left an indelible mark on society. Major festivities commenced with the 2023 Grammy Awards and led up to the official anniversary on August 11th.  As the celebration continues throughout the year, we're allowed to relish, celebrate, and reminisce about the music and its foundational elements of deejaying, rapping, graffiti, and breakdancing.
The remarkable endurance of Hip-Hop is worth noting. Emerging from the Bronx in 1973 through the pioneering efforts of DJ Kool Herc, it has surpassed expectations. What was initially deemed a passing trend has evolved into a multi-billion-dollar industry encompassing film, fashion, spirits, and numerous lucrative collaborations.
The look of Hip-Hop was in lockstep with the sound.  With half a century behind us, it is fitting to reflect upon the origins of Hip-Hop's influence on fashion. While the early 1970s witnessed a fusion of flair and disco fashion in the scene, the 1980s introduced a distinct streetwear aesthetic that transcended urban culture, achieving nationwide commercial success. Iconic elements like Kangol hats, leather goose-down jackets, Cazal eyeglasses, and gold rope chains, along with the unique feature of Adidas shoes sans laces, became the epitome of coolness, frequently associated with streetwise hustlers. While not the creators of this look, Hip-Hop legends, Run-DMC, played a pivotal role in popularizing streetwear, transforming it from a street-only style to an everyday emblem of coolness. This transformation was chiefly driven by their 1985 hit single "My Adidas," which enabled them to secure Hip-Hop's inaugural endorsement deal with Adidas in 1986, a moment that has etched its place in history.
When tracing the lineage of these popular brands, the imports of Britain (Cazal glasses) and Germany (Adidas and Kangol) are evident to some as  foundational elements that were subsequently remixed into street culture. However, lesser-known history is that the domestic influence of Hip-Hop emanated from Kansas City.  That's right.  A brand from the city known as a "Cowtown" produced denim that was a staple in New York City.  Lee's origins date back to 1889 in Kansas, and it officially established its presence in Kansas City, Missouri in 1917. As Hip-Hop flourished, the Lee brand became integrated into the lyrics. A case in point is the brand's double feature in the second verse of "My Adidas" (1985):
Verse 2: My Adidas
My Adidas, standin' on two fifth street
Funky fresh and yes, cold on my feet
With no shoestring in 'em, I did not win 'em
I bought 'em off the ave' with the black Lee denim
I like to sport 'em, that's why I brought 'em
A sucker tried to steal 'em so I caught 'em and I fought 'em
And I walk down the street, and bop to the beat
With Lee on my legs and Adidas on my feet
And so now I'm just standin' here shootin' the gip
Me and D and my Adidas standing on two fifth
My Adidas
My Adidas
However, it's worth noting that "Adidas" was on Run-DMC's third album in 1986, but this wasn't the introduction. Two years prior, Run-DMC were already rapping about Lee jeans on their self-titled debut album's track "Rock Box" in 1984. There was no mention of Adidas; rather, they generically referred to shoes as "sneakers" and even dismissed competitor Calvin Klein as a tribute to their allegiance to Lee jeans:
Rock Box 1984 (Run DMC)
Verse 3: 
We got all the lines and all the rhymes
We don't drop dimes and we don't do crimes
We bake a little cake with Duncan Hines
And never wear the pants they call the Calvin Kleins
'Cause Calvin Klein's no friend of mine
Don't want nobody's name on my behind
Lee on my legs, sneakers on my feet
D by my side and Jay with the beat (Beat)
This moment is of monumental significance, as the music video for "Rock Box" achieved the distinction of being the first rap video aired on MTV during the summer of 1984. This propelled their album to secure the RIAA's first Gold certification for a rap album in history. Lee jeans was used in other songs by the group and the brand continued to gain popularity through the mentions by other rappers like Grandmaster Flash and LL Cool J.
The 1980s laid the foundation for Hip-Hop's ascent, with Lee jeans emerging as the premier denim brand of that era. In a podcast episode of "People's Party With Talib Kweli," the legendary emcee Talib interviewed DMC, and recounted:
"That's how much cultural currency that Lee jeans had in all New York.  That people who had cheap knock-off jeans would literally run behind you, snatch your Lee patch and put it on their jeans, and that was like the beginning of Hip-Hop Fashion."
Rumors speculate that this patch jacking was fueled by a store promotion that offered free swag upon reaching a specific quota of patches. Nevertheless, the brand's popularity and cultural influence remain undeniable. Moreover, in the realm of Hip-Hop, acquiring Lee jeans was only the first step. The brand was often augmented by permanent creases (sewn in), graffiti-adorned jackets, patches, and innovative zipper enhancements.
The 1980s merely heralded the advent of greater things to come in Hip-Hop. In the 1990s, for instance, denim styles underwent transformation, fresh footwear gained prominence, and distinctive Black-owned brands debuted with their own unique styles. Mega-deals akin to the Adidas collaboration followed for other Hip-Hop luminaries and the overall influence continues.
Kansas Citians can rightfully take pride in their city's place within this historical, Hip-Hop narrative. However, just as trends evolve, so do corporations. After an impressive 130-year tenure in Kansas City, Lee Jeans eventually relocated to Greensboro, North Carolina in 2019. 
Delve further into the Lee brand's tribute to its 50-year journey within Hip-Hop, visit: Lee's Hip-Hop Tribute at: https://www.lee.com/about/history.html